Home renovation – PLUMBING
Renovations are always exciting….at first.  As promised in last Fridays' Tap 2 Drain TV episode, here are T2D's Do's and Don't of Home Renovation PLUMBING!
Budget
No one likes putting a limit on a dream, but no one wants to get caught not having the funds to finish a project either.  Whether you save up or borrow, having a budget for your dream kitchen or spa bathroom allows you to get the project done comfortably.   When building your budget ALWAYS leave a good 15-25% for contingency.  You just never know what kind of problems you might encounter.  Having a buffer built into your budget will allow you the wiggle room to fix things that come up and not have to sacrifice the perfect faucet you found.
Wishlist
I could spend hours and hours on Pinterest or Houzz looking at kitchen ideas.  Take the time before you get started to see what style fits you best.  Layout and design features should be well thought of before and not during your project.  When your Nice Guy Tech from Tap 2 Drain comes out to your project in Langley he will go over what is do-able and where your fixtures can be placed.  Want an island sink in your kitchen?  The internal plumbing – water and drain- will need to be moved to accomplish this.  It's not just about picking out a BEAUTIFUL SINK AND FAUCET!
Plan
Iknow you still haven't ripped out a wall or torn up the floor but this step will save you time and money when done properly.  Like any project, there are a series of events that must be done in order to accomplish your end goal.  No different for plumbing.  You can't just move a toilet over 2 feet you have to move the drain and the flange the toilet sits on.  Plus there are other trades that need to be coordinated and have their jobs done before your plumbing can be finished up.
An example would be a spa bathroom renovation.  After the old materials have been removed Tap 2 Drain will visit and go over the layout of the tub/shower, toilet and vanity so that it complies with plumbing code but you also get a usable, functional space.  Once your Nice guy Tech has "roughed in" for the fixtures (ie- moved the water lines and drains and installed any valves etc that must go behind the walls or under the floor) the drywallers, tilers and floor trades complete their part.  Then your Nice Guy Tech comes back to install the trims, toilets, sinks and faucets to complete your stunning new SPA bathroom.
There is a flow and if you have never done a big reno before it can be overwhelming.  NO WORRIES you have Tap 2 Drain Plumbing on your side.  You can recommend other trades and contractors that we have worked with that do GREAT work.
Product
This is an important part.  There are many things to consider when picking your product, like
Will the product be available in your timeline – Some product can take up to 6 weeks to get.
Does the product suite your needs – Although that kitchen faucet is a thing of beauty will it do what you want or work properly in your unique situation.  Tap 2 Drain can hook you up with product that will not only be beautiful and on budget but perform well.
Quality – Sure you can go to a big box store and purchase a faucet but the quality is much lower than a plumbing supply store.  Even though the faucet says MOEN the product is big box stores is made internally of plastics, specifically to keep price low.  Tap 2 Drain's preferred suppliers have quality products with brass internal parts.  Makes a big difference.
Warranties –  When you purchase your own product Tap 2 Drain can only warranty the install and materials used to install it.  If a problem with the product arises you will have to deal with the store or the manufacturer.  Major pain plus extra cost.  When you have Tap 2 Drain supply your product you get our AMAZING NO WORRIES guarantee!  You will have nothing to worry about because we take care of everything.
Extra cost – Some products have overly complicated installation requirements.  This could lead to extra cost not thought of when purchasing the product.  Something to think about when looking around.
Get Going
You now have an excellent plan of action, your layout is confirmed and you are ready to get started.  Let the good times roll.  Just remember when your in the thick of the dust that your new space will be amazing!
If you ever have any question don't hesitate to give us a call.  We have been doing this for years and if something doesn't seem right we can help.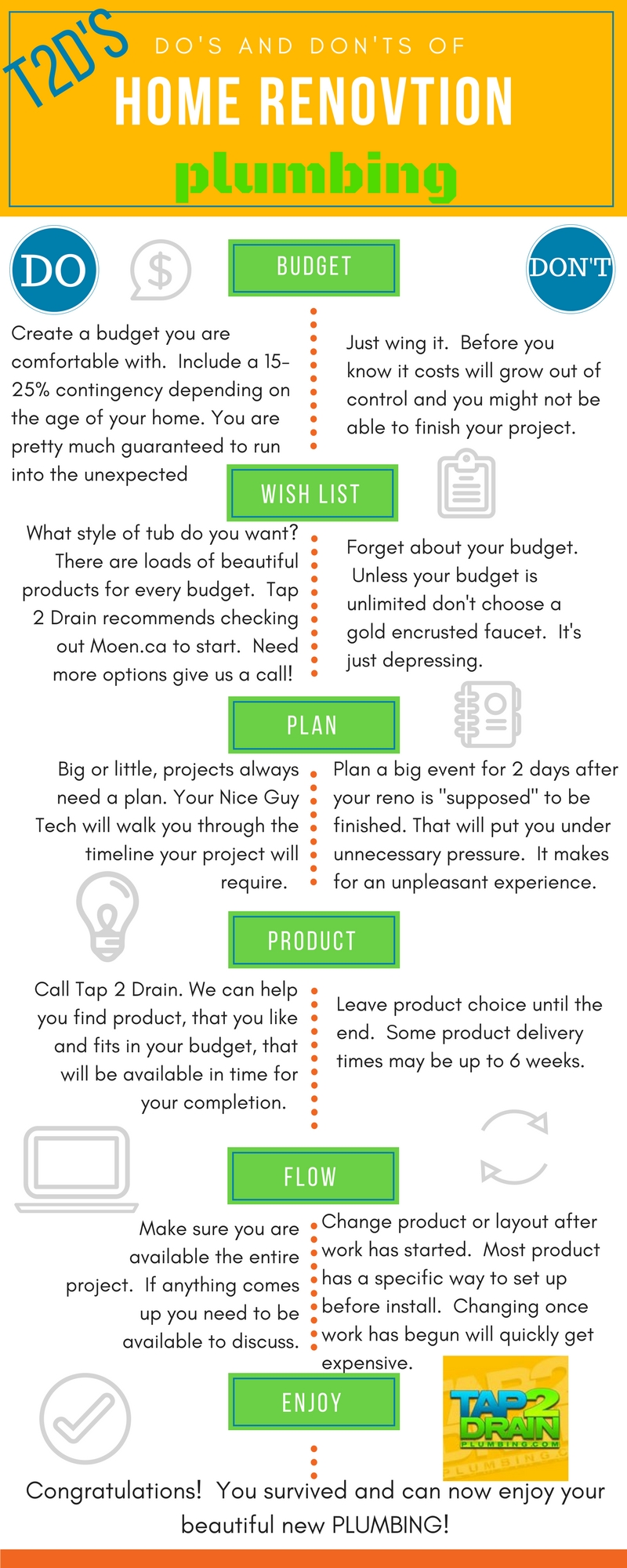 Latest posts by Jen Koehler
(see all)