Furnace service by Tap 2 Drain.
I am utterly destroyed that summer will be officially over this Friday, Sept 22.  I am not sure how it went by so fast but it was GLORIOUS here in the Fraser Valley!  Now that the kids are back in school and traffic has started to snarl, it's time to get to adulting again.  Bummer I know but in order to keep my acceptable comfort levels consistent I know there are a few items, at home, I need to take care of at this time of year.  Like having my furnace serviced.  It's one of those creatures in the dark, very important but never thought of until it rears its ugly head and refuses to do its job, knowing my luck in the middle of a snowstorm.  Other than making sure the beast is working, why would you want to service your furnace yearly?  Well, let me lead you to the warmth and the lowdown on having your furnace serviced by Tap 2 Drain.
Save your DOUGH
Calling a plumber/heating tech out in the middle of a snowstorm at 1 am on a Sunday is going to be UBER expensive. Save your money and have your furnace properly serviced before there is a problem.  When a Tap 2 Drain Nice Guy Tech services your furnace they ALWAYS check not only its operation but their years of experience help spot any signs of impending doom.   Maintenance is less expensive than emergency repair.
Regular maintenance performed by a qualified Nice Guy Tech will also improve the efficiency of your furnace.  Up to 30% increase means lower heating bills.  There we go again saving you dolla bills yo, like fiscal gangstas.
Save your LIFE
Carbon monoxide is poison.  A poorly performing furnace will expel CO into your home.  You can't smell or see it that's why it's called a silent killer.  All joking aside, carbon monoxide is very dangerous.  I urge you to not only install CO detectors (ask your Nice Guy Tech or get them at your local hardware store) but to have Tap 2 Drain maintain your furnace EVERY FALL.  Just because it seems to be working fine doesn't mean there isn't a problem you can't detect.  A maintenance bill is a small price to save your families life.
Save your HEALTH
As it gets colder we all gravitate indoors and so do our germs.  Forced air systems move air throughout your home, so little dudes snot-filled sneeze is not only hovering around him but has now been efficiently moved through the entire house.  NASTY.  A big part of maintaining your furnace is the built-in filter system.  These specialty filters are designed to reduce the germs and allergens spread through the air in your home.  You'll be wanting those babies changed so they are performing optimally during cold and flu season.  You'll feel sooooo much better for it.
The filters are only part of the health of your system.  Rust or corrosion inside the furnace itself can cause particulates in your air. Misfiring ignitions can cause unburnt gas to circulate through your home.  There are many working parts to a furnace unit and any one of these issues will greatly reduce your indoor air quality.  Not something you want to experience especially if there are family members with allergies or any breathing issues.
Save your TIME
Tap 2 Drain are furnace servicing NINJAS.  Our Nice Guy Techs have super skills that will make having a furnace servicing appointment a DREAM.  Your T2D tech will walk you through how the service is going and show you areas of concern if he needs to.  If there are any super spiffy options to improve your furnace system he will let you know but as always it's your choice, we are just there to advise in our area of expertise not to PRESSURE you.  We are the NICE GUYS, after all, not the MEAN GUYS.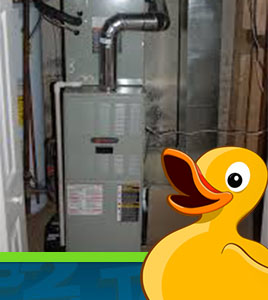 Now is the TIME
At the beginning of fall is the perfect time to have your furnace serviced.  Call us today to book your Nice Guy Tech and BREATH EASY!  I know I am 🙂

Cheers
-Jen


Along with Steve, Jen created Tap 2 Drain Plumbing to give clients exceptional service in their homes and businesses.   Always ready to make you smile, Jen believes in building the business with integrity and is one of the driving force behind the scenes at Tap 2 Drain.  "We treat clients the way we want to be treated, as family."

Latest posts by Jen Koehler (see all)