Tap 2 Drain Plumbing's Top 10 FAQs – What To Expect
With all the plumbing nightmare stories floating around, how do you know who to call when you do need a plumber? Tap 2 Drain Plumbing's Top 10 FAQs – What To Expect – should help ease your mind.  Let's get started and, as always, if you have more questions please comment, email or give us a call. We are always here to help.
#1 – Why does Tap 2 Drain charge a "call out fee"?
We don't mess around.  Our goal is to provide our clients with the best service and work we can.
The call out fee covers getting your tech to you and basic diagnosis of your unique problem.  It pays his wages, insurance, and gas. In turn, you get someone who will take care of you ethically, not overcharge, and will tell you UP FRONT pricing and options.  We are a little different that way, as most old-school plumbing companies charge by the hour plus parts, with a minimum one hour to start. But how are you supposed to know how long a job should take?
When you call a professional, you rely on them to provide you with professional service.  We take the guesswork out of that happening.  By only charging a small fee at the beginning, you are in charge!  It is your home, and we are there to assist you, not make it weird.  Remember nothing in life is free!
#2 – Why will Tap 2 Drain not give me a quote over the phone?
There are several reasons, but the biggest is, we could be wrong!  Every situation is different.  Just like people, every home is different.  Just because a solution was right for one person doesn't mean the exact same solution will work for another.
If we told you over the phone that installing your toilet would be $100 and the Technician got there and found out that the floor was rotten, or the supply lines were cracked, or the toilet you want to be installed isn't going to fit, then we would be wrong.  Wouldn't you like to know the correct price before we start instead of a surprise at the end?
Also, our fabulous people in the office are not plumbers!  Sure, we know a lot of the lingo and the basics of what happens, but that's it. There is no practical application, just theory.  So we stand by not quoting over the phone because it doesn't help you or us.  So don't ask.  We won't do it. I know the unknown can be scary, and me saying "trust us" is like asking you to lick a light socket! BUT, we haven't been in business for 10+ years, have excellent reviews and a BBB score of A+, by ripping people off.
Like I tell clients all the time, we are here to take your money for years and years, not all at once!
#3 – Are there really NO "HIDDEN" fees?
Really and truly there aren't.
We don't go ahead without your permission, and even more importantly, without you understanding what and why we recommend your particular repair.  You don't need to know the technical jargon, and we aren't there to make you feel stupid.  By showing you what we are going to do before we start and what we did when we are done, instead of you just "believing" in us, you can see where your money went.
If we do encounter a problem during work, the tech will stop what he is doing and show you. It is your home, not ours, it is your money, not ours, but it is our business and we have spilt to much blood, sweat and tears to jeopardize it over a couple hundred dollars.
Years ago I worked as a service advisor in a car dealership – you know, the person that writes up your workorder to get your car in for an oil change.  I would have to call people with news about what repairs or services their cars needed.  The problem was when they picked up the car it looked EXACTLY the same as when they gave it to me (except washed of course) but they had to pay $200 or more!  I figured out pretty quickly that if I just took a few moments to show them their new coolant or brakes, it relieved a lot of the fear that they might have been ripped off.
Easy peasy.  I felt good the customer felt good and knew the next time they needed something they could trust me.  Steve and I started Tap 2 Drain so we could provide that same level of service to homeowners.  No one should ever be afraid.
#4 – Is Tap 2 Drain Plumbing Expensive?
Nope.  But we aren't cheap either.  It really is all about quality.  Not just the quality of work and the value you get as a client, but the quality of our company and the people who are a part of it.  To attract and keep good people, we have to offer a decent wage and benefits.  We need to pay for liability insurance to make sure if there ever is a problem, you are covered. We carry $5 million, if you're interested.
New trucks in good working order to get your tech to you on time instead of a date with the tow trucks.  We get the best equipment to do the best job for you.
Happy techs mean they do a good job because they have pride in their company and themselves.  Look, we are not getting rich here, but we are providing you with good quality and value, our people with a living they can be proud of, and a future for our kids (we have two boys) we can be proud of.
#5 – What Is "Nice Guy Pricing"?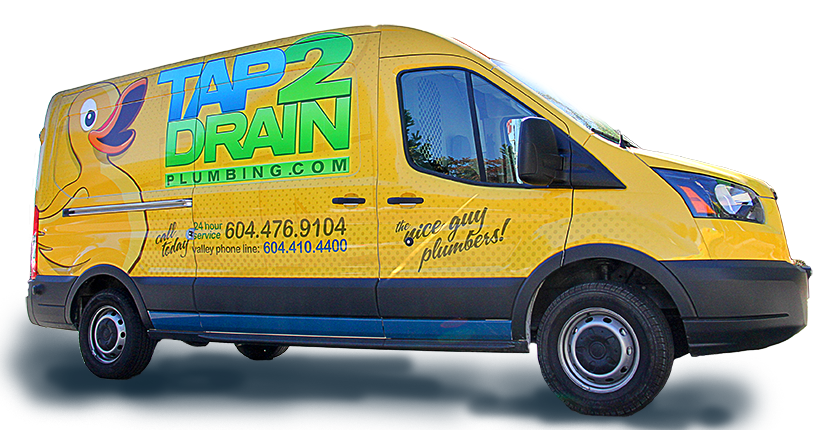 Everyone knows how it USED to be.  A plumber would tell you it will be two hours plus parts and whatever hourly rate was set.  There are a number of problems with this way.
First off, how the heck do you know if that is a reasonable amount of time to complete your job properly? You're not a plumber, so they could tell you anything they want.
Second, no one wins at that game.  Really great plumbers, who are good at what they do, get penalized for working quickly, and cruddy plumbers take longer than necessary.
Have you ever tried repairing anything you are unfamiliar with or don't do on a regular basis?  How many trips to Rona did you make?  That's the biggest difference between hiring someone who knows what they're doing, has done the job repeatedly, and/or has years of experience and someone who doesn't.
You wouldn't get an electrician to do your heart surgery.  It takes the right training and experience to do the job, not just good, GREAT!
#6 – Can I Trust Tap 2 Drain Plumbing?
In 2007 Steve and I started Tap 2 Drain so we could provide clients with service that we would want to have.  I mean seriously, the horror stories are everywhere.
How could you possibly invite a business into your home, give them your money, and have them not do what they SAY they are going to do.  DEVASTATING!   We will NEVER be those people, and will never own a company that the modus operandi is just about how much money we can weasel out of people.
We all live in the communities we serve, and we want to be PROUD of what we do.  We get asked quite often if we can be trusted…. I know saying "trust me" sounds smarmy, but YOU REALLY CAN.  We are humans, and we do make mistakes, but I believe it's how we handle those mistakes that makes us worthy of your trust.  We will always find a way to make it right.  Really, it doesn't happen very often, you will ALWAYS be taken care of, that is our PROMISE!
#7 – Will My Plumbing Tech Be On Time?
This is another reason we are different.  We book our appointments in two hour time windows.  This gives our super techs enough time to properly take care of clients and get to the next job. If a job is running longer, and we suspect we won't make the appointed time, we keep you in the loop.
Our fantabulous office will give you a call well before and the tech will call when he is on the way.  There is no need to sit around the house WAITING.  We know you have a life and a million things to do, so we keep you up to date!  It's a small courtesy, but we value your time as you value ours.
#8 – Will My Plumber Have The Parts Needed For My Job?
You betcha!  Our ducky trucks are fully stocked up with the parts needed for 99% of the jobs we encounter on regular basis.  If your problem is unique and we don't stock the part, we don't charge to go get the part.  I know, right?  AND if we have to order the part, we don't charge the call out fee to come back and finish the job.  It's just the right thing to do.
#9 – What Are "After Hours"?
We are always upfront about any charges.  Tap 2 Drain doesn't increase the cost of doing the job in an emergency or after hours situations.  The only difference is the call out fee.  Regular 8:30-4pm Monday to Friday is $99.00.
After working a full 8 hour day who doesn't want to just go home and crack a cold one?  But your plumbing isn't aware of time schedules and can go at any moment.  After 4 pm to 8 pm during the week and on all day weekends, we class as "after hours."  Not quite the middle of the night, but late enough that it's not regular business hours.
If after working a full day you had to leave your family just as dinner was being set out, you would want to know you will be properly taken care of too.  Our techs and their families are just as important as our clients.  We don't want to burn anyone out, and we want to provide excellent service, it really is a balancing act.
#10- Are Tap 2 Drain's Plumbing Technicians Qualified?
YES!  Ongoing training keeps our plumbing techs up-to-date with the industry.  Our in-house training spreads our years of experience through the company.  Each of our plumbing techs also specializes in different areas.  From boilers to re-pipes we have the right tech for your plumbing situation.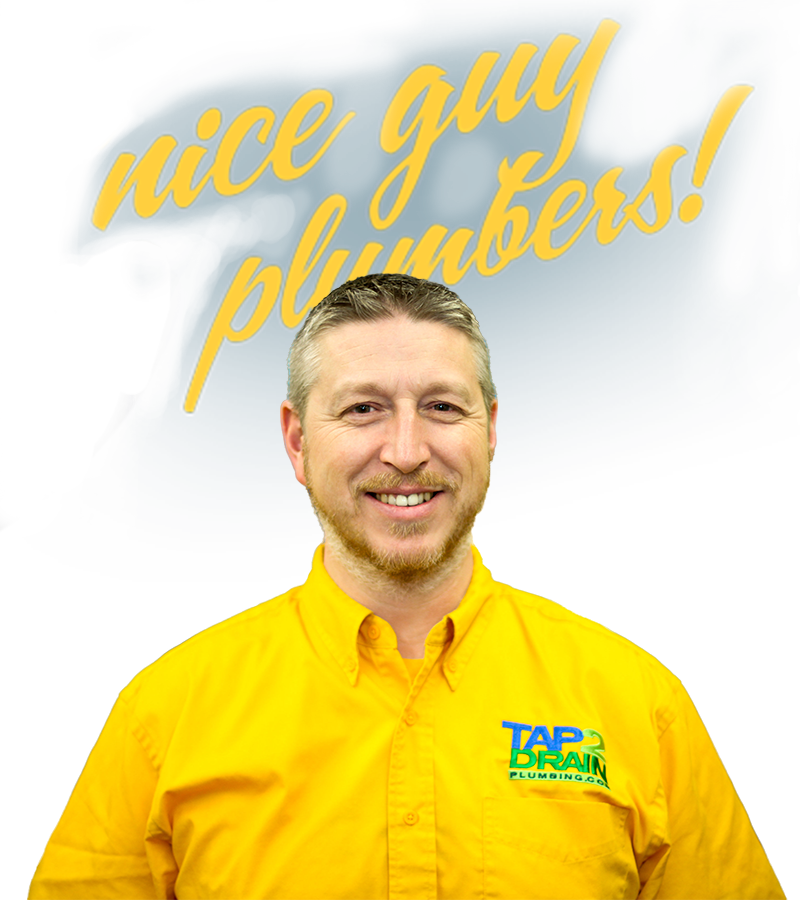 Latest posts by Jen Koehler
(see all)