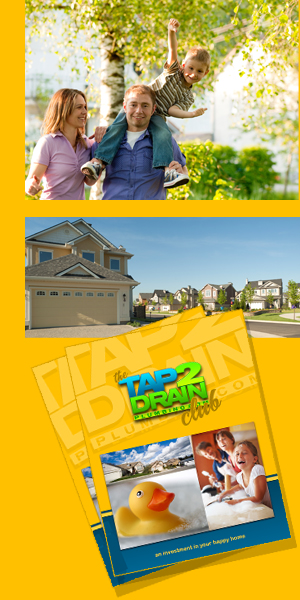 Welcome to the Tap 2 Drain Club!
The Tap 2 Drain Club is our exclusive membership program designed to give you the ultimate peace of mind and exceptional bonuses for being really smart and protecting your home…..for FREE!*
Take a look at the amazing member benefits that you can take advantage of right now!
323 inspection – $250 in free service!
Once each year one of our Nice Guy Techs will come to your home and do a thorough 323 visual plumbing inspection.  During this super sweet inspection any system or fixture adjustments will also be made FREE of charge for just being a member.  Here's a peek at just a few….
All of your toilets are checked and tested for leaks and smooth operation. Any needed adjustments are FREE!
All of your faucets are tested and must pass a rigid "Performance Test". If they don't, they'll be adjusted FREE of charge!
All of your exposed waterlines are checked for any damage.
All of the piping under your bathroom and kitchen sinks are checked for any sign of potential water damage.
All of your drains are checked above and below sinks for leaks and clogs.
Your washing machine hoses and valves are thoroughly checked and tested.
Your water heater is checked for safety, leaks and signs of corrosion. Water heaters are often a major cause of water damage. Keeping this piece of equipment in top shape guarantees Peace Of Mind!
Any concerns or questions you have about your home's plumbing will be gladly answered.
You go to the front of the line!
Talk about VIP treatment, you go to the front of our books.  When you need us we will always be there but being a member gets us to you first.  Also as a T2D Club member you will never have to wait in an emergency situation, our Nice Guy Tech will be to you within 2 hours any time of the day or night.
FREE! FREE! FREE!
Yes we said free!  If you maintain your membership for 30 consecutive months Tap 2 Drain will give you a credit towards any future service or install of your choice.  That is more than $200 FREE.  Your membership and all the extra benefits COST YOU NOTHING, you can't lose.
The BIG Finish
You can take advantage of the super exclusive 15% discount on preferred service for just being a member when you do need a repair or replacement.  Plus T2D Club member have access to our "T2D Club Special", monthly unadvertised steal of a deal only available to members! All of these amazing perks and the best plumbers ever, how can your resist for only 7.95 per month plus taxes.
Is it for you?
The T2D Club is right for you if you want to protect yourself from unwanted plumbing problems. When you do need any plumbing replacement, repair or maintenance, T2D Club gives you the best of the best!  If you own and live in a detached house, town home or condo, then T2D club is right for you.  If you are a landlord and own multiple properties, each address can have a T2D Club membership so you never have to worry about who your tenants are calling.  If your a real estate agent it's always a good idea to gift a year membership to new home owners as an extra perk for working with you as well as peace of mind.
Give us a call or ask your Nice Guy Tech any question.
*Membership dues, not including taxes, can be used as a credit towards any applicable service 
or replacement within one year of the 30 month consecutive membership anniversary.
Our Promise
As a member of the Tap2Drain Club, your home is protected from the annoyance of leaky faucets, clogged toilets and broken water lines. If a problem does occur, you'll go to the top of our service list. You will be priority-service protected every hour of every day from water damaging plumbing emergencies. If you move within our market area, you may transfer your club membership to your new home or it can be transferred to the new owner.